Sevaan supporting staff welfare
---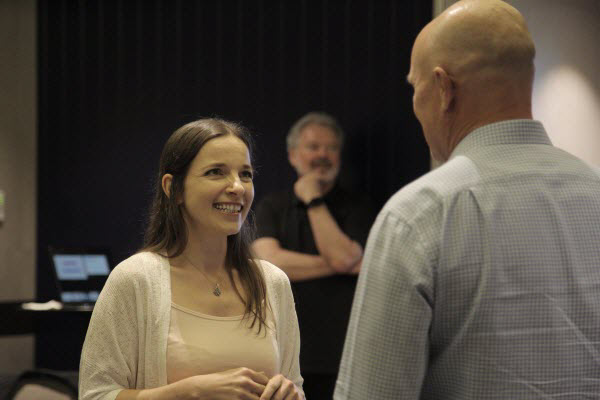 It is often the little things that make the biggest impact. At Sevaan, we have made a conscious decision to invest in the learnings and agenda of the RUOK movement. Since introducing the RUOK Day into our welfare program, noticeable random acts of kindness have infiltrated our workplace.
Colleagues checking in on their teammates, and Sevaan providing a safe space for employees to talk about any issues that may be troubling them have seen a significant shift toward respect, awareness and support that is naturally evolving within our organisation.
Each day our administration and team leaders champion the idea of a connected, supportive and fun workplace. Our staff notice boards signal daily bulletins for our team to enjoy their day, to reach out when in need, to seek assistance and to end their shift with a smile. These small but powerful reinforcement messages help keep the culture of wellness at the forefront of everyone's daily activities.
Black Dog Institute training, first aid courses and the Sevaan safety hub
---
The practice of OH&S sits at the top of Sevaan's priorities. The group has established a very successful online safety hub. Each team member has a profile within the system where they access a range of online learning activities including tutorials and quizzes designed around workplace safety that reinforce the importance of a safe working environment.
The safety hub includes all compliance relating to the workplace health and safety legislation under the SA act of 2012, including the mental welfare of our team.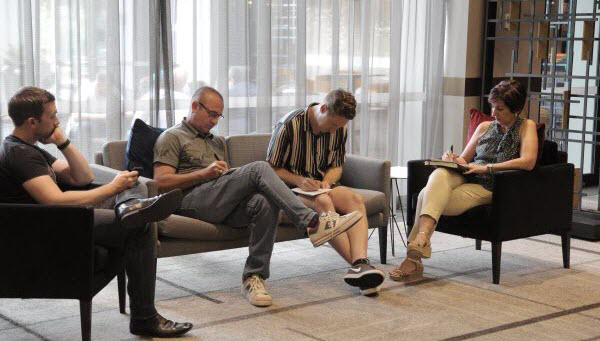 Many of the Sevaan team have participated in our in-house first aid courses provided by registered authorities. We have a large percentage of team members qualified to administer first aid if required and can do so with complete confidence in the tools and first aid kits available. Documented and displayed first aid procedures are easily identifiable and we build continuing first aid training into the team members' working conditions.
Sevaan is a big supporter of the Black Dog Institute and we value the training the institute provides.
We are proud to have had representatives from the institute deliver face to face on-site workshops to our team. These seminars are an excellent source of information. They provide qualified background in symptoms of mental health issues and fantastic strategies and tools to help members of the community who may be experiencing forms of mental illness find pause and tender a vehicle to recovery.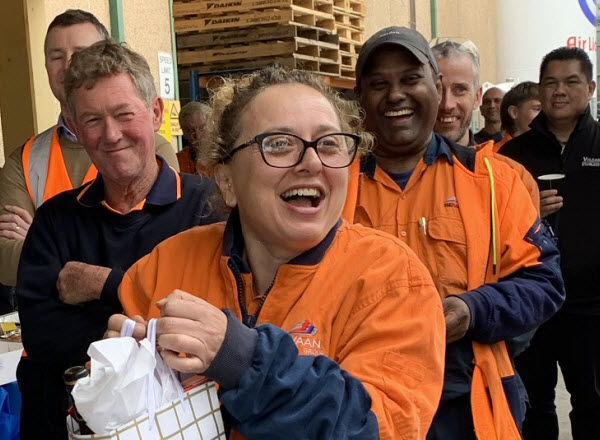 Education and participation should be fun and engaging
---
Education plays a compelling role in our staff welfare programs. There is a time and place for face to face and online seminars and training within the welfare space, however we believe that putting initiatives in place where team members can participate and engage sees a way forward for cementing strong relationships, connections and understanding within our workplace community.
MOVEMBER
With the moustache back in fashion, particularly with the younger men, it is not hard for us to convince our guys to grow a moustache for the cause. Naturally, it is not just about the facial infusion, but a wonderful way for our team members to support Movember and the mental health initiatives supporting men's mental wellness. We do see plenty of healthy competition during November as the lads battle it out, or should we say 'grow it out' for the title of best moustache and most money raised.
BIGGEST MORNING TEA
This is highly popular with both our team and the extended community of Sevaan.  The Biggest Morning Tea is an annual event hosted by the Sevaan Group and each year our team members prepare unique and interesting dishes originating from their cultural heritage. Our broad ethnic diversity ensures we gather and share some of the most exotic dishes imaginable and each dish represents a cultural story that is as fascinating as it is delicious. The event is not exclusive to just our staff. Sevaan Group invites customers and suppliers who enjoy the morning tea as much as we do. The Biggest Morning Tea is one of best fundraisers, and in 2021 we collectively raised $12,000 for the Cancer Council of Australia. Not only does it bring all our community together but helps the battle against a hideous disease.
STAFF ACTIVITIES
Silvie Jarrett is Sevaan's Group unofficial director of entertainment. Not only does she orchestrate our official training sessions and fund raising activities, but she takes on the responsibility of surveying our staff and offering up a variety of fun activities for the team to get involved with. It may be a trip to the movies, a night at a restaurant or spinning around a go kart track. Silvie sets a rhythm of positive engagement that is infectious and she is passionate about ensuring every person loves coming to work, loves being at work and goes home to their family, safe, fulfilled and happy.
At Sevaan Group, we work hard to ensure our workplace is one of encouragement, learning and support, and fosters a great sense of community and pride. We place a very high value on our employees and continue to find new and interesting ways to ensure their safety and their welfare are of the highest priority.
Speak to our team of experts
---
At Sevaan Group, we are experts in metal engineering, fabrication and finishing. We work across all industry sectors and market verticals to deliver complete machining solutions. We offer unrivalled precision and consistent, reliable quality. Contact our highly skilled team of engineers today.