Ladies Can Be Tradies - How Sevaan Group is part of a new revolution - helping women to pursue careers in metal fabrication and manufacturing in Western Sydney.
---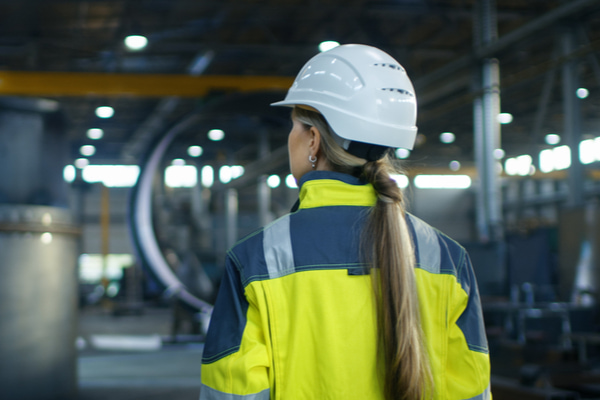 Sevaan Group is revolutionising industry – and not just with innovative design for manufacture and excellence in end-to-end metal fabrication solutions.
This passionate team is part of a new program in Western Sydney – and if you haven't heard of it yet, you will soon. It's called 'Ladies Can Be Tradies'… and on International Women's Day this year, the My Gateway group training organisation launched the program that aims to tip the gender imbalance in industry.
The inspiring 'Ladies Can Be Tradies' initiative shares the stories of female apprentices in the hope of encouraging more women to learn a trade – and build an exciting and fulfilling career.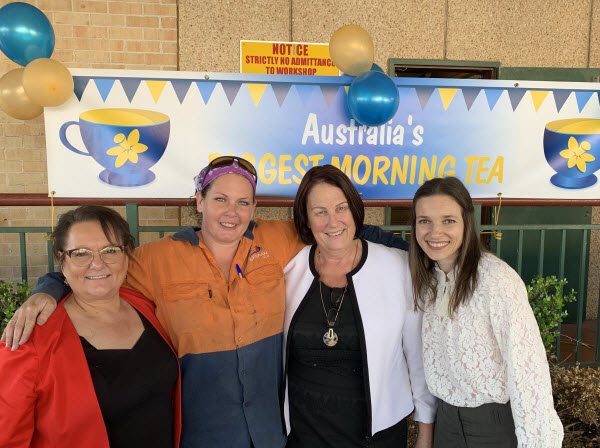 An initiative close to our heart
---
Sevaan Group metal fabrication is very proud to have been there from the start – with our fabulous sheet metal apprentice, Abbey, one of the early faces of 'Ladies Can Be Tradies'.
"The apprenticeship is awesome. It's everything I could have asked for. The people at Sevaan are great and the work I do here is amazing," says Abbey.
Sevaan Group knows that women can make an incredible impact in manufacturing – and we've always encouraged females in our industry.
So we're delighted to share more on 'Ladies Can Be Tradies' – and introduce you to Abbey, Kellie, Voula and Fipe, our team members who work so hard towards our quality design for manufacture and metal machining solutions.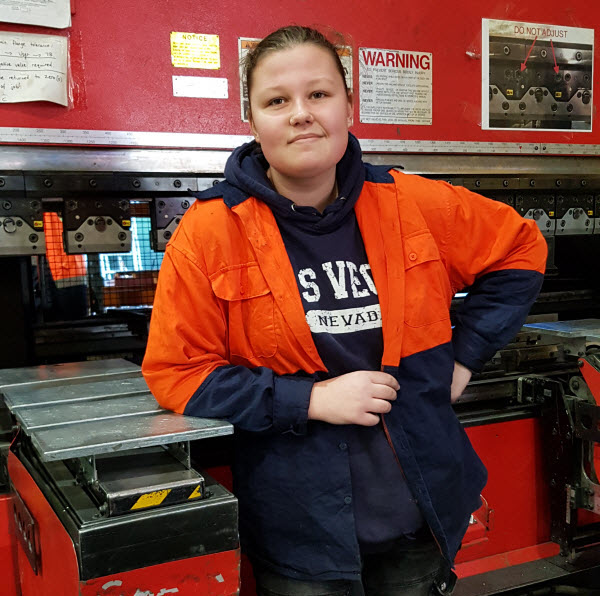 Meet Abbey
Abbey is Sevaan Group's star sheet metal fabrication apprentice, and she's the youngest in the My Gateway program. "She's our youngest," observes Sally Hurley from My Gateway, "but also very mature and focused. It's not always the case with someone of her age. She's wise beyond her years and is very determined to succeed."
For Abbey, there was never any question about moving into the metal machining trade.
"I did metalwork from years seven to ten at school, and it was the only thing that really interested me."
Abbey even takes the techniques she learns at work to create her own projects at home.
"I love everything about working with metal. It's really satisfying. And I love that I'm learning so much here at Sevaan."
Abbey would definitely encourage more females to join in. "It's a fantastic trade to get into. Sevaan has been very supportive every step of the way. There's not a day that I've felt uncomfortable or out of place. It's an amazing place."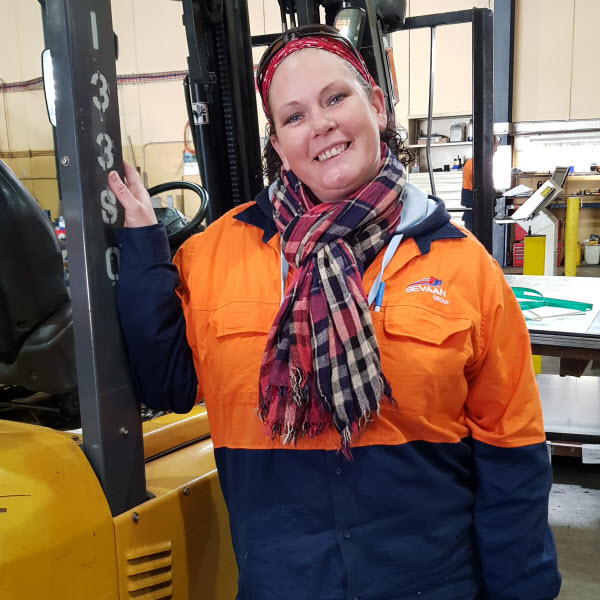 Meet Kellie
Kellie has been with Sevaan Group for four and a half years, working as a forklift driver and in inventory control. She has a mixed background, too.
"I used to work in compounding in a factory and in real estate. Sevaan Group was my first job after having a child. I definitely prefer being outside rather than sitting in an office every day. And this is such an interesting place to be." 
Kellie has noticed changes in the industry.
"Other than management, I was the only female here when I started. It's grown, and I've also noticed changes in the reactions from visitors. They're much less surprised to see a woman driving a forklift."
Kellie would absolutely recommend the work to other women. "It's different every day and challenging, which keeps it interesting. And once you have your foot in the door, there are so many opportunities to build skills – and I'd love to keep doing that."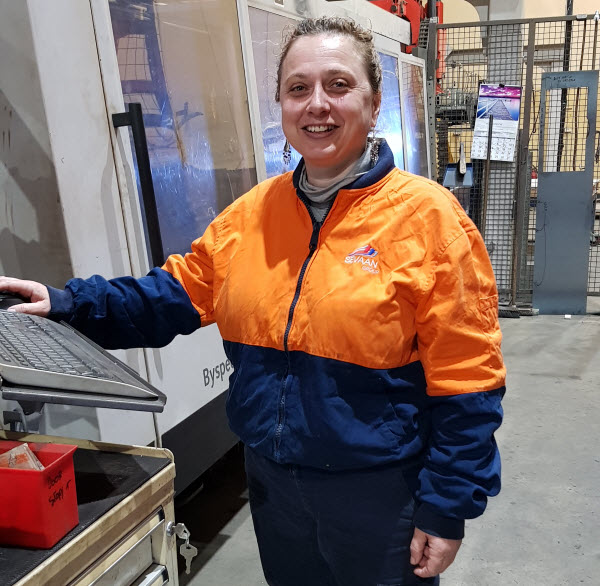 Meet Voula
Like Kellie, Voula had a varied career path prior to joining us.
"I've worked in customer service, I've assembled blinds, soldered radios and I worked in a photo processing lab for several years. This is my first time in the metal industry, and I love it. The people are great here, and we all get along well as a team."
At Sevaan Group, Voula runs the laser cutting machine. "When I first started, I rotated between whichever section needed me – like the CNC milling machine or bending machine. Now I love having the chance to focus on one area. It's still something different most days, and it's satisfying to be in charge of your own area."
Voula would like to see more women working in manufacturing. "Of course, I'd love to see more women in the industry. It's a great thing for women to do and I don't see it as a man's job at all. It's empowering to do a physical job and I love learning new skills. I definitely think more women should do it."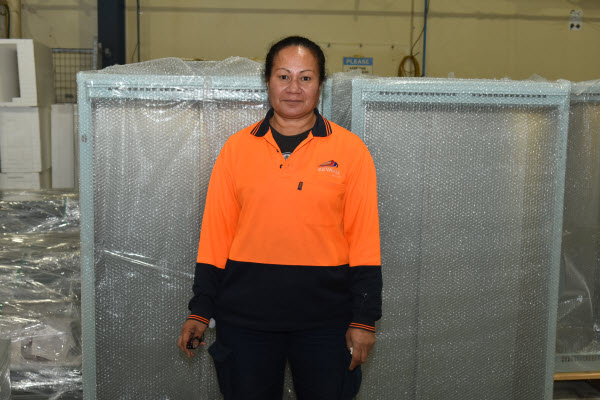 Meet Fipe
Fipe first came to Sevaan for a four-hour temp job – and she's still here 16 years later.
"I remember on my first day, Jim (Co-Founder and CEO) came over to chat. He took time out and made me feel comfortable. I knew straight away this was where I wanted to work."
Fipe manages our paint shop but she's also worked across a range of areas.
"I've done bending and spot welding. I've run the laser and the CNC punch." Before Sevaan, Fipe rarely stayed still. "I used to make fish tanks, I was a newspaper clerk, I was with a plastics manufacturer… and I worked on a farm in New Zealand. I've enjoyed everything about Sevaan, which is why I've stayed so long. I love that there's a lot of training here, too. They've sent me on a management course and I'm now doing a leadership program. Sevaan has been really supportive every step of the way."
Fipe has noticed increased female representation over the last 16 years, and she loves it. "My attitude is that we need to stamp our identity in industry. Women can do anything, fit in anywhere if we really want to. It's up to us to make a change."
Spreading the word
Established in Campbelltown in 1982, My Gateway helps aspiring apprentices start their careers – and helps employers find the right apprentices for their business. "We mentor – and provide ongoing support – to both apprentices and host organisations," explains Sally. Shelley Bullock, My Gateway CEO, elaborates: "It's important to encourage young women to follow the career paths they are interested in and to feel comfortable and confident in a trade."
Sally says the 'Ladies Can Be Tradies' program is about awareness-raising.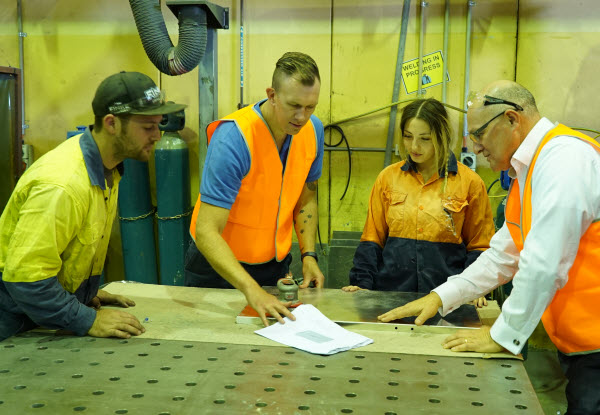 "We want to promote the good work that our female apprentices are doing, in the hope of a flow-on effect." The program features video interviews with current apprentices, posted to the My Gateway website and across social media.
Changing pace
There are currently eight female apprentices with My Gateway, working in metal and machining, construction, carpentry, bricklaying and horticulture, with participants ranging from 16 to 32.
My Gateway regularly attends school expos to spread the 'Ladies Can Be Tradies' message. And there's also work to be done with potential host organisations. "There are still businesses that aren't even set up with basic female amenities like bathrooms," Sally says. "The businesses we've worked with have been really good in that regard, and happy to adapt if required."
Wider change across industry is a work in progress. "I think it will definitely take some time for the industry to change. There is still some stigma about women working in what have traditionally been perceived as male-only industries."
For Sevaan, there's no question as to the value of our female employees. And we'll continue to lead as an employer of choice for women in manufacturing… and with our innovative, and always superior, metal fabrication solutions.
If you'd like to build a career with Sevaan – or work with us on your metal fabrication requirements – then we'd love to hear from you.